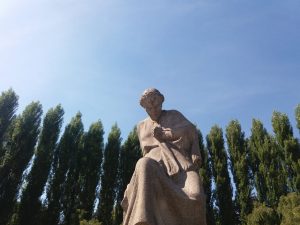 Visit of the Soviet Berlin, of the Memorial of Tiergarten and Treptower Park where are burried and celebrated a part of the Red Army's soldiers dead during the Berlin Battle. There are in fact 77 000 sovietic soldiers and 3 000 polish soldiers to have been killed during the fights against the Nazis forces between April the 16th and May the 2nd oft 1945.
These memorials are different on many points from those for the First World War soldiers: big grey monuments topped with any statue of a victorious soldier walking toward the city or holding a baby in one hand and a sword in the other. The architecture has to represent the superiority of the Soviet Union freeing the world of fascism by the blood of its men.
Are also exposed war planes, tanks and other weapons so as we can wonder if these memorials are really here for the memory of these men killed by the war's violence or a proof of the sovietic strength anouncing the Cold war..